All students arrived at school after a good night of rest and breakfast provided by our host families. Our morning began with tefillah led in part by Alexandra and Ari. Then we worked through an activity called the Mensches' Periodic Table of Middot. We played three rounds in which twice students chose a character trait they felt reflected them and their beliefs. The third was to choose one that may not be a strength but rather a characteristic to work on.
Our first speaker of the day was Renee Blalock (below). Her mother was Patricia Blalock z'l', a social worker turned librarian, who is credited with the peaceful integration of the Selma Public Library before any laws were mandated. They were to establish a "vertical library" which meant that they removed all the chairs so that both white and black people could use the library but the couldn't sit and mingle. After a few weeks, she slowly began bringing back chairs. The library became an example of what an integrated community could look like. However, it is important to note that Selma today is not prosperous and somewhat divided.
Miss Stephanie Hicks (below) was the next speaker. She spent six months in prison and now works with the Offenders Alumni Association.  I liked hearing her talk about her own experiences in prison. She said that for example, there might be more than 100 people but only five or ten bathrooms. She and all the other women had to wear ugly green pants and shirts and workboots everyday. She told us that she had to be a welder in prison even though she has a bachelor's degree and Master's degree. - Lia
She knows that many people learn from their mistakes and come out of prison to be good people. It is hard to get work and housing and for people to see them as people, not just ex-prisoners.
After lunch it was time to go to the Birmington Boulders Rock Climbing Gym for team building activities.
I really liked the trust walk. We had to put our hands on the shoulders of the person in front of us. We weren't allowed to talk or to open our eyes. I was nervous becasue I had to trust all my friends. Some of the people I have known for years but some others I met yesterday. The point of it was to make us feel a little uncomfortable just like people we are learning about. - Xander
We did a tandem "skiing" group activity. The object was to get all the people from one side of the building to the other and we had to be on two wooden blocks with pairs of ropes. It was very challenging but very fun. We had to use teamwork, cooperation and we had to listen to each other. We also had to go step by step and it sometimes got confusing. In the end it wasn't a competition because the two teams helped each other. This reminded me of the civil rights movement with all different groups of people who ended up helping to end segregation. - Alexandra
After all that team building it was time for rock climbing!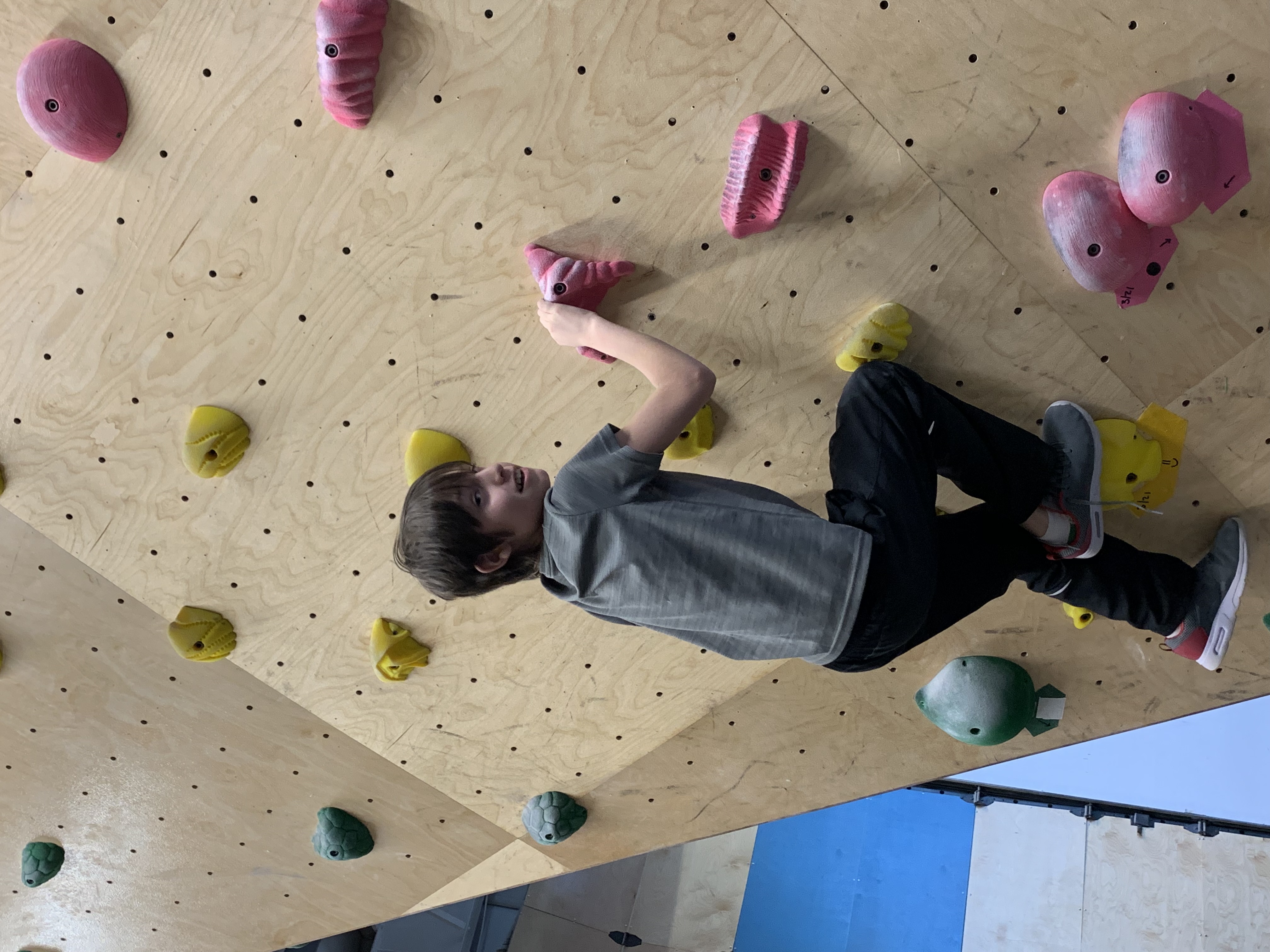 (I, Marcy, apologize that some of these photos are sideways... the new blog platform is finicky and I neglected to tell student photographers to take pictures horizontally. I decided it was better to have sideways pictures rather than no pictures!)
Everyone enjoyed a falafel dinner (or other choice) and we finished the night with a break time, then journaling and a final speaker. Mr. Schuster shared his parents unique story about surviving the Holocaust, coming first to Buffalo, NY and then to Birmingham, AL.
Just a reminder, we are on central time. We apologize that the blog posts are a bit late but we hope you enjoy!